CH2M HILL Professor in Civil Engineering
December 31, 2017
In 2017 CH2M made a $1 million gift establishing an endowed professorship at OSU. The CH2M HILL Professorship in Civil Engineering honors the company's founders and their roots at Oregon State while investing in the future workforce.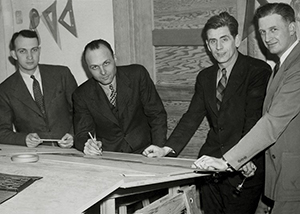 CH2M was born at OSU. In the 1930s, three students (Holly Cornell, James Howland, and T. Burke Hayes) and their civil engineering professor, Fred Merryfield, began dreaming of starting an engineering company. After completing their military service in World War II, the four men launched a consulting business in January 1946 in Corvallis, and named the company after their initials. In 1971, CH2M added "HILL" to its name after merging with a company founded by another former OSU student—Clair A. Hill and Associates—after 15 years of collaboration. The combined company would provide a diverse range of environmental and engineering consulting services around the world.
For decades CH2M and OSU were close partners in a mutually beneficial relationship that allowed both institutions to advance their efforts to build a better world. Generations of OSU graduates chose CH2M as their employer, and many of those OSU alumni advanced into leadership positions in the company. OSU faculty served as consultants on CH2M projects, while CH2M employees returned to OSU as adjunct faculty, mentoring the next generation of engineers.
The professorship will be awarded to outstanding faculty who hold the position for a term of three to five years.