Hallie Ford Director for the Center for Healthy Children and Families
December 31, 2008
In 2007, shortly before her death at the age of 102, noted Oregon philanthropist Hallie Ford made a gift of $8 million to build the Hallie Ford Center for Healthy Children and Families and create an endowment for its director.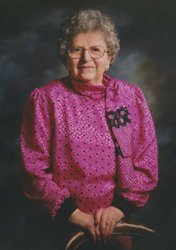 Part of OSU's College of Public Health and Human Sciences, the Ford Center houses researchers who take a collaborative, preventive, and lifespan approach to child and family health, addressing such issues as early childhood development, school readiness, childhood obesity, as well as child, youth, and family resiliency.
Born in Red Fork, Oklahoma, in what was then Indian Territory, Mrs. Ford was the first in her family to go to college. Despite the challenges of the Great Depression, she worked her way through school and earned a teaching certificate. After marrying Kenneth W. Ford, she helped to establish Roseburg Forest Products and cofounded The Ford Family Foundation.
A woman of few words but great vision, Hallie Ford believed in the transformational value of art and education. Resourceful and frugal in her personal life, she reserved most of her wealth to benefit others, giving millions to programs throughout Oregon and her home state.