At 15 years-old, Jason "Jay" Washabaugh '85 became certain of his life's trajectory after participating in the junior ROTC program
September 11, 2020
By Chloe Johnston, '21
At 15 years-old, Jason "Jay" Washabaugh '85 became certain of his life's trajectory after participating in the junior ROTC program at his high school. He found his way to Oregon State University after pursuing the same Navy ROTC scholarship his older brother, Jess Washabaugh '84 - who became a U.S. Marine and served in the Marine Reserves - received. After an illustrious career in the Navy, Jay retired in the rank of Commander. Though retired, he continues to work with the SEALs as the chief of Digital Training and Learning at the Naval Special Warfare Center, the schoolhouse where he started his SEAL career 35 years ago.
Jay describes himself as a "chronic volunteer." While living in Hawaii for three years, he worked with Habitat for Humanity, the American Red Cross and the OSU Alumni Association. In Hawaii, Jay participated in a park clean up two years in a row during OSU's Day of Service, during which they collected two tons of trash. He and his wife of 31 years, Susan, have raised two kids to adulthood, which he said takes, "a slight second place to the difficulty of SEAL training."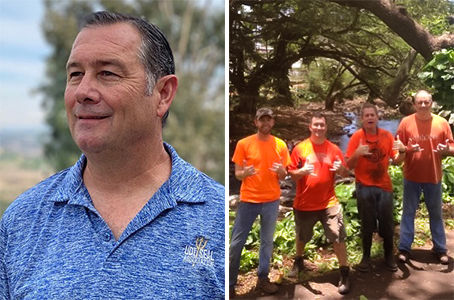 Now located in San Diego, he continues to volunteer as a career ambassador for the OSU Alumni Association. In this role, he organizes events for fellow alumni to orient them with potential career opportunities. When asked about his motivation to continue volunteering, Jay says, "I don't have a lot of money, but my time is worth something."
Learn about how the OSU Alumni Association's career resources could support your next step, help you build your network and allow you to support future generations of OSU alumni.