Jo Anne Leonard Director of the Center for Healthy Aging Research
December 31, 2011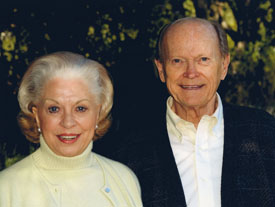 In 2011 Don and Jo Anne (Leonard) Petersen made a gift commitment of $2 million to create the endowed Jo Anne Leonard Directorship at OSU's Center for Healthy Aging Research. Funded by the proceeds from two gift annuities, the endowment will enable the center to expand its teaching, research, and outreach in the aging sciences, and help it become a leader in creating societal solutions for aging issues.
Known as "Jody," Petersen grew up in Silverton, Oregon, and graduated from OSU in 1947 with a degree in home economics. She met her husband-to-be, Donald Petersen, at an OSU student dance. He went on to receive an engineering degree from the University of Washington and eventually became chairman of Ford Motor Company.
Jody Petersen became interested in gerontological issues while taking care of her own aging parents. "At that time, I found very little research anywhere in the country," she said. She set out to change that by supporting the then emerging field at her alma mater.
In 1995 the Petersens established the Petersen Chair of Gerontology and Family Studies, a faculty endowment which laid the groundwork for the Center for Healthy Aging Research. The center brings together a community of scholars from five OSU colleges – public health and human sciences, engineering, science, liberal arts, and business – who are committed to enhancing the quality of life for older adults, their families, and society.