John and Jean Loosley Faculty Fellow
December 31, 2009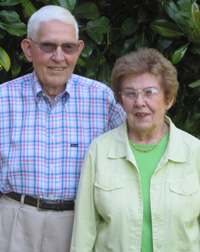 John and Jean Harris Loosley's success was built from the ground up, literally. After Jean graduated from Oregon State in 1948 with a bachelor's degree in business administration and John completed his civil engineering degree in 1949, John worked for the cities of Astoria and Roseburg before being hired by Roseburg Paving Company in 1955. Ten years later the Loosleys purchased the company; John served as CEO and Jean also played a key role, overseeing its financial matters. They expanded into the ready-mix concrete and sand and gravel businesses, increasing their staff from 20 employees to 200 by the time they sold the businesses in 2000.
The Loosleys long were active in the Roseburg community, serving on numerous local boards and with Redeemers Church. Their two children are both Oregon State graduates. A former member of the National Asphalt Paving Association board, John was inducted into the OSU College of Engineering Hall of Fame in 2006. He passed away in 2016, followed by Jean in 2018.
In addition to other generous gifts to the College of Engineering and the College of Business, the couple established the John and Jean Loosley Faculty Fellowship Fund in 2009 for up-and-coming faculty in the School of Civil and Construction Engineering.