N.B. and Jacqueline Giustina Professor in Forest Management
December 31, 2007
The N.B. and Jacqueline Professorship in Forest Management was established in 2008 by a $3 million gift from Jacqueline Giustina and the estate of her husband, the late N.B. "Nat" Giustina.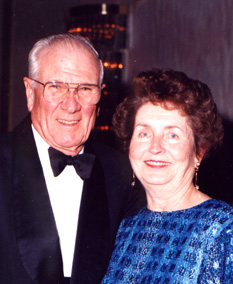 A 1941 graduate, Nat Giustina, who died in August 2005, helped grow his family-based forest products and timber business in the Eugene area.
Giustina was very involved with Oregon State, including serving 25 years on the OSU Foundation and spearheading the effort to create the Trysting Tree Golf Club in Corvallis, the proceeds of which benefit the university.
When he heard about The Campaign for OSU, Nat Giustina's health was poor, and he asked his family to make a gift after his death. His wife, Jacqueline, and his children, decided to direct the gift to create two professorships at OSU, one in forest management and the other in turf management.
The Giustina Professorship in Forest Management is intended to support a top faculty member and provide significant resources for associated research, education, and outreach activities.
"This gift will help ensure that the college can continue its leadership in sustainable forest management and the related fields of water quality, and fish and wildlife habitat," said Hal Salwasser, dean of the College of Forestry.
Current Faculty Holder