Robert and Sara Rothschild Endowed Chair in Global Health
December 31, 2017
In the 1970s College of Engineering alumnus Bob Rothschild '65 and his wife, Sara, moved from California to Ohio's Mad River Valley, determined to work the land. Their spirited commitment resulted in a successful 170-acre farm and more red raspberries than they could handle. They decided to make preserves: an idea that launched the Robert Rothschild Farms line of gourmet foods. During these years, their fourth child was born and Sara returned to her nursing career, teaching public health in college settings.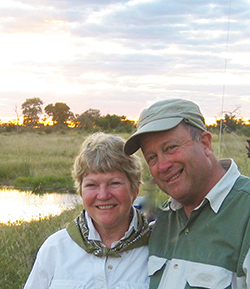 Life's journey took another meaningful turn in 2004 when the couple visited friends working in a Cape Town area settlement in South Africa. Moved by what they saw, the Rothschilds decided to help expand the community's one-room library, and the next year Sara traveled to Botswana to participate in a Habitat for Humanity project. Experiences like these and the people they met inspired them to establish a family foundation that specializes in building libraries throughout rural Botswana. In gratitude, the Government of Botswana presented the couple with the Presidential Order of Meritorious Service in 2010.
After moving to Corvallis, the Rothschilds reconnected with OSU through the track program, and have been steadfast supporters of the university's mission and purpose to serve the world. Bob joined the OSU Foundation Board of Trustees in 2015, and Sara serves on the Community Advisory Council of the College of Public Health and Human Sciences.
In 2017 the Rothschilds joined their passions for OSU and global awareness by establishing an endowed faculty position in the College of Public Health and Human Sciences. This individual supports international experiences for students related to global health: hands-on cross-cultural and community-based work opportunities for students in all disciplines across the university.