Sara Hart Kimball Dean of the College of Business
December 31, 1988
In 1988 William R. and Sara Hart Kimball of Belvedere, California, made a gift to endow the Sara Hart Kimball Dean's Chair in the College of Business. The couple made generous gifts to support several other programs at OSU as well.
Following in the footsteps of her mother, an Oregon State alumna, Sara Hart Kimball received her bachelor's degree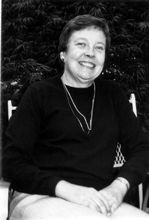 from OSU's School of Business and Technology in 1958. A dedicated volunteer throughout her life, she served on the OSU College of Business Council and the OSU Foundation Board of Trustees, as well as the boards of the San Francisco Education Fund, the Marin Ballet Association, the Branson School, and the Chaplaincy at San Francisco General Hospital. The Kimballs were among the co-chairs of the committee leading the $40 million expansion and renovation of the Valley Library. Bill was the owner of Kimball and Company in San Francisco, with dealings in real estate and diversified operations.
At the time the Kimballs made the initial gift for the dean's endowment, Sara said, "We feel there is no better investment in the future than education. We support education not only financially, but also as volunteers. Bill and I feel so strongly about the importance of education that we, and mainly I, want to say a huge 'thank you' to Oregon State. We hope this gift will be viewed as a leadership gift, and that many others will experience the enjoyment it gives Bill and me to be able to do this." Sara passed away in 1997, followed by Bill in 2005.