Wayne and Gladys Valley Chair in Marine Biology
December 31, 1988
In 1988 the Wayne and Gladys Valley Foundation made a gift to establish an endowed chair in marine biology in the Department of Zoology.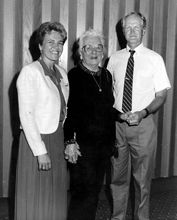 The Valley family's ties with OSU go back three generations. The late Wayne Valley '36 was an OSU football player who went on to a highly successful business career as a home builder in California. He was also a long-time major owner of the Oakland Raiders. His wife Gladys, who passed away in May 1998, was part of the class of '33, and was the first secretary of the College of Science, serving under two deans. Their late son, Patrick Wayne Valley, graduated in 1969 and played rugby for OSU. The OSU tradition in the Valley family continued with grandson Wade Westhoff '93, the son of Wayne and Gladys' daughter Sonya (Sunny).
The Valley Foundation was established in 1977 and has supported OSU generously ever since. In addition to the Wayne and Gladys Valley Chair in Marine Biology, Valley gifts have supported an endowed scholarship, the rugby program, construction of Patrick Wayne Valley Field, the OSU Center for the Humanities, the University Theater, the Valley Football Center, the Valley Gymnastics Center, the Marine Mammal Institute, and more. The Valley Foundation contributed $10 million for the expansion of The Valley Library and $20 million for construction of the Linus Pauling Science Center.