Wes Lematta Professor in Forest Engineering
December 31, 2003
Named in honor of Wes Lematta, co-founder of the pioneering Northwest company Columbia Helicopters, the Lematta Professorship in Forest Engineering was established in 2003 as a surprise Christmas gift to Wes by his wife, Nancy Lematta. The gift recognizes his outstanding contributions to the aviation and forestry industries.
After returning from military service in World War II, Wes Lematta used the G.I. Bill to complete flight training while working trucking jobs on the side. He became a helicopter pilot, and in 1957 he and his brother Eddie started Columbia Helicopters, the company that would fulfill their entrepreneurial dreams.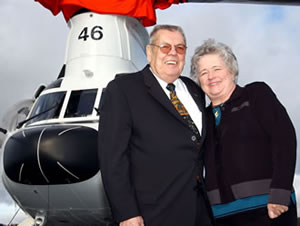 Columbia Helicopters grew quickly, and Wes proved himself to be a true innovator. He pioneered a logging technique called Direct Visual Operational Control, which enables a pilot to lean safely out of the cockpit window and maneuver a hook at the end of a 200-foot cable suspended from the helicopter's fuselage. Using this method, a pilot can deliver up to 14 tons of logs from the forest floor to the landing zone and quickly return for more. At the time of the gift, Columbia Helicopters was the world's largest aerial logging operation. The company also developed techniques for fighting wildland fires, and worked in the petroleum industry in Burma, Indonesia, Papua New Guinea, and Peru.
In 1995 the American Institute of Aeronautics and Astronautics honored Wes with the Pathfinder Award in recognition of his groundbreaking accomplishments in flight. He also received the U.S. Armed Forces Air Medal, and various awards from the U.S. Coast Guard, the Helicopter Association International, and the American Helicopter Society. He passed away in 2009.
The Wes Lematta Professorship in Forest Engineering will enhance teaching and research in methods of safely and efficiently removing timber from forests while protecting the environment.