Scholarship will help future veterinarians care for other beloved animal companions
May 21, 2021
Dr. Sarah Garver (née Jogi) and her husband Mitch wanted to get a dog, but the circumstances didn't seem right. It was the summer of 2018, and Dr. Garver had just graduated from Oregon State University's Carlson College of Veterinary Medicine with her degree in veterinary medicine. Mitch's work meanwhile takes him around the country for seven to eight months of the year, so they were long distance. They were also working on building a house in their hometown of Albuquerque, New Mexico.
The tentative plan was to get a dog that fall. He wanted a boxer puppy. She wanted an older shelter dog. "One day someone posted or tagged me on a post on Facebook of this boxer at a shelter near us that needed a home," Dr. Garver said. The dog was a male and about a year old as far as anyone could tell. He seemed like a good compromise.
"It was a little earlier than we planned, you know, our house still wasn't ready," she said. "I was living with my parents. I had just started a new job. It was a lot all at once, but we went for it. I called them first thing and pulled the vet card for sure, so I could get to the top of the line to get him."
The dog was a neglected breeding dog who'd run away and been picked up by animal control. "And then the owners just never came back for him. He was in pretty poor shape too – so hard to see," Dr. Garver said.
It was a 45-minute drive from the shelter back to her parents' house. "He hated the car," she said. He was barking and whining in protest of having to ride in the backseat. Dr. Garver finally got him home, "and I walked down the stairs and stepped on his bone that we had just gotten him and rolled my ankle really bad. And it popped and it hurt so bad. I definitely thought I broke it. And so we rushed to the urgent care real quick to get X-rays," Dr. Garver said. "We come back – he's gone," despite the six-foot fence surrounding the entire property.
"So, I was freaking out of course. He looks like this nasty untaken-care-of dog, and he's roaming around this neighborhood," she said. Thankfully, he hadn't gone far. "He got literally across the street – that's who had him."
"So that was day one of Benny."
Though a bit of "trouble," Benny quickly won their hearts. "He was just the most lovable guy. He loved to talk, and he was just such a person dog," Dr. Garver said. "We'd always joke that he would be happy finding another family in a park and going with them and be completely happy because he just loved people so much."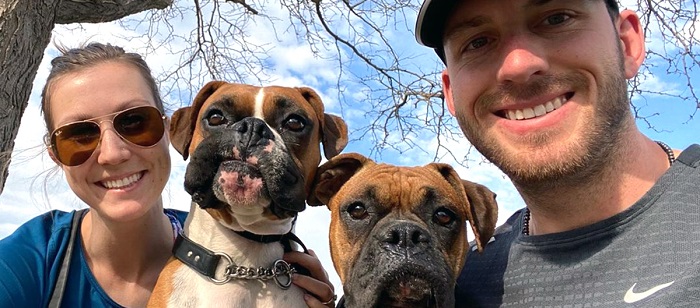 Benny, also known as "Benjamin Jetson – you know Benny and the Jets – and Benjals" was soon joined by another boxer named Chupi, said Dr. Garver. "Which is short for Chupacabra because she looked like one."
Chupi had come into Dr. Garver's clinic to be euthanized because she had a terrible case of demodectic mange and the owner couldn't afford treatment. "So, I had the owner surrender her," she said. "At the time I was not planning on keeping her; I just wanted her to have a chance and get better. Yeah, we were failures at that because we ended up falling in love with her."
Benny and Chupi made a good pair in contrasting personalities. Unlike "Mr. Popular," Chupi was much more reserved and nervous. "You know if she was in the park, she would not go to another family. She wants to be with us," Dr. Garver said.
Unfortunately, boxers have a hereditary predisposition to health issues including cancer. It was the reason for Dr. Garver's initial hesitation to get one. "I just was concerned and of course we ran into one with Benny and his lymphoma," she said.
Benny was first diagnosed in February with T-cell lymphoma, "which unfortunately is a little more aggressive," Dr. Garver said. "It was an intestinal form, which is also a little more aggressive. So he just kind of got hit on all ends with the most aggressive forms."
They pursued a treatment protocol to give Benny the best quality of life they could while also avoiding making him sick the whole time from his treatments. "We were realistic with the fact that we weren't going to have a lot of time with him, but we did want some more time and good quality time," she said.
In early May, the Garvers made the call that it was time to say goodbyes to Benny. "It's a tough job. And especially cases like Benny, it's my own patient, my own dog, those are the tough ones," Dr. Garver said.
Though he didn't get many years, Benny's memory will live on in the form of the Benny Garver Endowed Scholarship established through the OSU Foundation. Even before Benny got sick, the Garvers were planning to give back to her alma mater with a scholarship gift. "So when we diagnosed him, I was like, 'You know what, I think this is a good way to keep his name going,'" Dr. Garver said.
As an out-of-state student, Dr. Garver benefited greatly from scholarships during her years at Oregon State. "It was huge having scholarships in school," she said. "I tried working some while I was in school, but you know, obviously you're not working full time, school's a full-time job and commitment. And so scholarships really, really helped me … Even before leaving school, my husband and I knew at some point we wanted to do some sort of scholarship for out-of-state specific students."
The Benny Garver Endowed Scholarship will award an equal amount to a student in each of the four class years at the college. Though not restricted to students interested in oncology, Dr. Garver is hopeful it could help future students "that may pursue oncology or do some research, and maybe they find a better treatment for lymphoma."
"It was worth every day we got to spend with Benny, even though it was super short," Dr. Garver said. "And so we decided the scholarship was a really great way for him and his need to kind of live on and help people."

You can honor a beloved pet with a gift that helps students in the Carlson College of Veterinary Medicine. Learn about the OSU Pet Memorial Program.