Henry W. and Janice J. Schuette Endowed Chair in Nuclear Engineering and Radiation Health Physics
December 31, 2003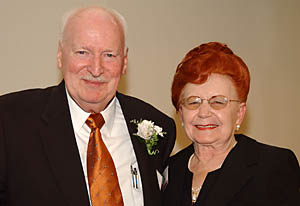 In 2003 a significant gift from mechanical engineering alumnus Hank Schuette and his wife, Janice, established the first endowed chair in the Department of Nuclear Engineering and Radiation Health Physics in the College of Engineering. The gift was the largest ever received by the department.
"When I left OSU, there was no nuclear engineering department because the industry was very young," Hank said. "Because future energy demands might very well be met by nuclear power, I've always thought it was an area we should be working on, a field where we should be ahead of the curve by gaining more and more knowledge about it."
Hank Schuette received his bachelor's in mechanical engineering from OSU in 1950. After graduation, he took a "temporary" job with Moore Dry Kiln Co. of Oregon that lasted 21 years. He worked on design in new areas that resulted in several added major products and equipment patents. He became vice president and director of the corporation with design and manufacturing responsibilities involving four plants in the U.S. and Canada.
In 1971 Hank joined Wellons, Inc., where Janice also worked. They built the company into an international leader in the design, manufacture, and installation of energy systems that turn waste wood from the lumber industry into electricity. The couple retired in 1994 and traveled the world. Janice passed away in 2010, followed by Hank in 2013.
"The Schuettes' vision and generosity allow us to honor one of our department's outstanding faculty members and enable us to extend our research and educational activities," said Andrew C. Klein, head of the Dept. of Nuclear Engineering & Radiation Health Physics, at the time of the gift. "Their outstanding gift helps make it possible for OSU to remain one of the top departments of nuclear engineering and radiation health physics in the U.S."