Milton Harris Chair of Materials Science
December 31, 1983
Milton Harris '26 was one of OSU's most accomplished and distinguished alumni. He was also a lifelong supporter of the university, and in 1984 established the first endowed chair in university history.
A native of Portland, Harris came to OSU at age 16 and completed his undergraduate work in chemical engineering in three years. Thanks to encouragement and mentoring by a faculty friend, he went on to Yale, where he earned his Ph.D., also in three years.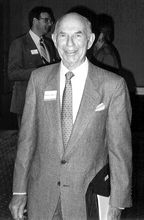 He kept up this pace throughout his life. In 1931 Harris and other young scientists formed an institute for the study of textiles at the National Bureau of Standards. Their work resulted in fibers that were water repellent, flameproof, and rot proof. He helped develop processes for permanent press in woolen goods and wash-and-wear cotton finishing. His work led ultimately to the development of synthetic polymers such as nylon, polyester, and plastics. His most famous invention was a coating to keep razor blades from rusting, a process that revolutionized the industry.
In 1945 Harris founded his own research laboratory, which later became a subsidiary of the Gillette Company. He was director of research and vice president of Gillette from 1956 until his retirement in 1966. He then devoted his energies to the American Chemical Society, of which he served as chairman for five years, and to a host of other scientific organizations and government advisory groups. The holder of 35 patents, Harris took every opportunity to encourage young people to pursue scientific careers.
In addition to the Milton Harris Chair, his gifts to OSU have supported three scholarships, two teaching grants, and awards in chemistry, biochemistry, and basic research. His last major financial gift to OSU created an endowment for the Department of Chemistry. His family continues to support OSU. Milton Harris died in 1991.