OSU Foundation - Ken Austin
January 1, 2018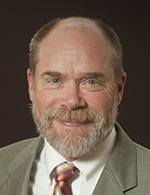 Mr. Austin is co-owner of Rain Dance Ranch in Newberg, along with his wife, Celia, '76. Established in 1991, Rain Dance raises llamas as breeding stock, for show, as pack animals, or pets. Mr. Austin is also corporate secretary for A-dec, Inc. Founded by his parents, Ken, '53, and Joan Austin, the company is one of the largest dental equipment manufacturers in the world.
Mr. Austin also is proprietor of Ken Austin Woodworking, creating turned wood and furniture. He designed and handcrafted much of the natural wood furniture in The Allison Inn & Spa, the Newberg resort established by his late mother, Joan. Mr. Austin has served on the Boy Scouts of America Cascade Pacific Council board.
As an OSU Foundation trustee, he is a member of Finance Committee and the Committee on Trustees. He is also a member of the College of Veterinary Medicine Dean's Advisory Council and the Athletics Advisory Board. Mr. Austin earned his B.S. in business administration from Oregon State University in 1976.