Warren Kronstad Wheat Research Chair
December 31, 1999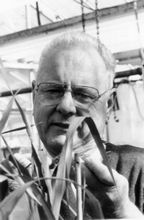 In 1986 farmer Eric Anderson and Bob Buchanan, then director of the state Department of Agriculture, accepted a major challenge from Oregon wheat growers: to lead a campaign to raise funds for an endowed chair dedicated to wheat research at OSU. Its mission: to keep Oregon's wheat industry profitable by developing new varieties of wheat and researching other significant issues of concern to the industry.
Thanks to widespread and generous response from individual wheat growers, agribusiness, the Oregon Wheat Commission, and other associations, the target goal was reached in less than a year. The Wheat Research Chair was the first position at OSU endowed by gifts from many people and organizations, and the first endowed chair in the College of Agricultural Sciences.
There was little doubt about who would become the chair's first holder. Warren Kronstad, a world-class scientist and teacher was already a member of the OSU faculty, and had been since 1959. After receiving his bachelor's and master's degrees from Washington State University, Kronstad came to OSU, where he earned a doctorate in plant breeding and genetics in 1963. After joining the faculty, he worked on projects in many countries, including a multi-year research effort in Turkey that resulted in dramatic increases in wheat production there.
Despite Kronstad's strong commitment to international agriculture, he never forgot the wheat farmers in the Pacific Northwest. Cultivars he and his colleagues developed continue to occupy a significant percent of wheat acreage in the region. He developed the Stephens cultivar, which at one point comprised about three-fourths of all wheat grown in Oregon and is also a major crop in Washington and Idaho.
When Professor Kronstad retired in December 1998, the Wheat Research Chair was renamed in his honor. He passed away in May 2000.