Jim and Billie Plasker Faculty Scholar in Geomatics
March 31, 2022
In 2022, Jim and Billie Plasker established an endowed faculty scholar fund to support teaching excellence in geomatics in the College of Engineering. Holders of this position are appointed for a term of two to three years.

Jim and Billie were raised in the Willamette Valley and met as teenagers while picking beans. They were high school sweethearts, but ended up (temporarily) going their separate ways in their sophomore year of college. Thirty-three years later they reconnected, and have been married since 2004.

After earning his bachelor and master's degrees in civil engineering at Oregon State in 1971 and 1973, Jim Plasker launched an impactful career, including 26 years with the U.S. Geological Survey (USGS). He began when satellite-based surveying, computer-based mapping and digital imaging were nonexistent, and saw the rise of all three. In the late 1970s and early 1980s, he participated in classified meetings on early civilian agency use of what would become a seminal geospatial tool and a household name: Global Positioning System (GPS). He was responsible for the development of the U.S. National Aerial Photography and National Digital Orthophotoquad Programs, which provided the initial imagery database for what would become Google Earth. In 1994, he received the U.S. Department of the Interior's highest honor, the Distinguished Service Award. He completed his career in the Federal Senior Executive Service as the Associate Chief of the USGS National Mapping Division, and then as Associate Chief Geologist. In 1998, he was appointed as the Executive Director of the American Society for Photogrammetry and Remote Sensing, retiring from that position in 2014. He was named to the College of Engineering Hall of Fame in 2014.

Billie attended what was then the Oregon College of Education in Monmouth, and went on to a career in the credit industry. She managed a group of four credit bureaus located throughout Montana before returning to Oregon to serve as credit coordinator for a West Coast chain of lumberyards headquartered in Bend. Once the couple reconnected, she moved to Virginia where she completed her career as credit manager for the American Society of Civil Engineers.

Jim has supported OSU's geomatics program throughout his career, even arranging for the program to acquire a truckload of surplus photogrammetric equipment in the early 1980s. He is appreciative of the support Dean Scott Ashford has provided in recognizing the value of geomatics data and information to a wide range of engineering disciplines. In 2019, Jim and Billie also initiated the Robert J Schultz Geomatics Endowment Fund in honor of Jim's mentor, Professor Schultz.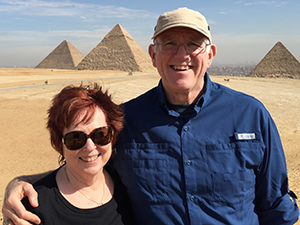 Billie and Jim Plasker