OSU Foundation - Eric Schoenstein
January 1, 2020
Mr. Schoenstein is a Managing Director at Jensen Investment Management and, as Chief Investment Officer and Portfolio Manager, has primary responsibility for portfolio management and strategy across all of the firm's products and strategies Prior to joining the firm in 2002, Mr. Schoenstein served as senior audit manager with Arthur Andersen LLP.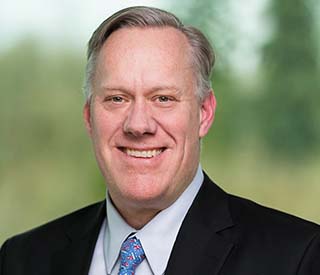 He is a past president of the executive committee for the Oregon Golf Association and currently serves as Treasurer and is director for the Western Golf Association, which supports the Evans Scholars Foundation. Mr. Schoenstein is currently the chair of the OSU Foundation Board of Trustees and serves as chair of the Compensation and Talent Management Committee as well as on the Finance Committee. He has also served as chair of the Investment Committee, the Committee on Trustees and the Audit Committee and as a member of the External Relations Committee.
He is a former OSU Alumni Association (OSUAA) president and served as the OSUAA board liaison to the OSU Foundation. Mr. Schoenstein also serves on the College of Business Dean's Council of Excellence. He was honored with the Jean and C. H. "Scram" Graham Leadership Award in 2010 and was named a College of Business Distinguished Early Career Professional in 2007.
Mr. Schoenstein earned his B.S. in business administration from Oregon State University in 1988.