Prepared to Thrive
June 15, 2021
Learn about the incredible impact of students and alumni of the OSU's Master of Arts in Teaching in Clinically Based Elementary (MAT-CBE) program, which is anchored in a strong commitment to social justice and equitable, research-supported, field-tested teaching strategies.
College of Education tailors a program to answer a growing need for skilled, committed teachers.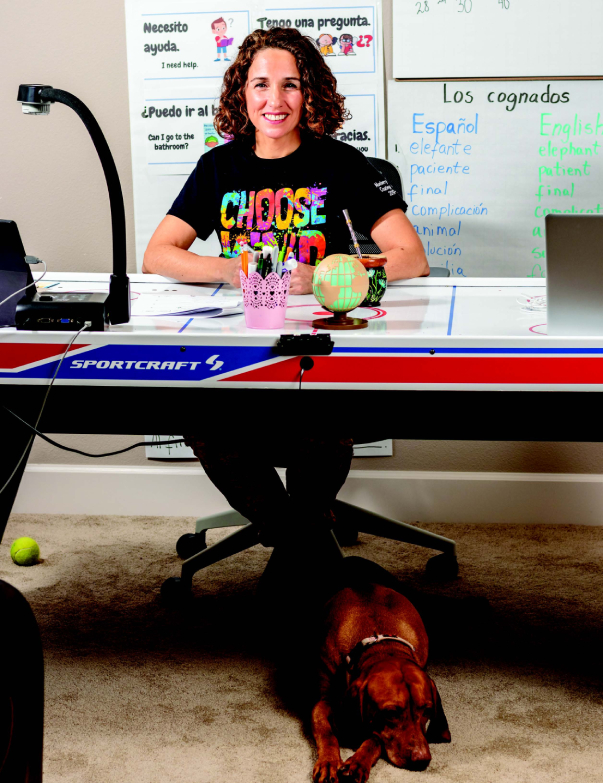 Above: Assisted by Luna, her loyal vizsla pointer-retriever, master's student Laura Plomer teaches bilingual second grade from the family's air hockey table. Banner: Madeline Elmer returned to her childhood bedroom to teach second grade as she works toward her MAT in an innovative OSU program. (Photos: Banner by Maria Echaniz; above by Karl Maasdam)
By Kevin Miller
Editor's note: All of the teachers featured in this story were working remotely at the time of their interviews. It's likely that some or all of them will be teaching in person by the time the spring Stater is published.
Laura Plomer's classroom for the pandemic is her family's air hockey table. Her loyal teaching assistant is Luna, the family's vizsla pointer-retriever.
Plomer is a second-grade Spanish/English dual-language teacher at Mooberry Elementary School in Hillsboro, and she's working her way through a showcase OSU program that uses a powerful mix of academic rigor and classroom experience to help aspiring educators turn their passion for teaching into a life's vocation.
It's called the Master of Arts in Teaching in Clinically Based Elementary (MAT-CBE) program. Anchored in a strong commitment to social justice and equitable, research-supported, field-tested teaching strategies, it provides effective mentorship and leverages the teaching power of OSU's highly-ranked Ecampus program, supplemented by occasional in-person classes at OSU's Portland Center (which temporarily moved to remote instruction during the pandemic).
"High levels of teacher turnover in the profession mean that universities must change how they prepare teacher candidates," said Amanda Kibler, associate professor and teaching program chair in the College of Education.
"In response, our MAT-CBE program was developed around a clinically-based model. Much like a doctor going through a medical residency, our candidates have hands-on, 'clinical' opportunities to learn while doing."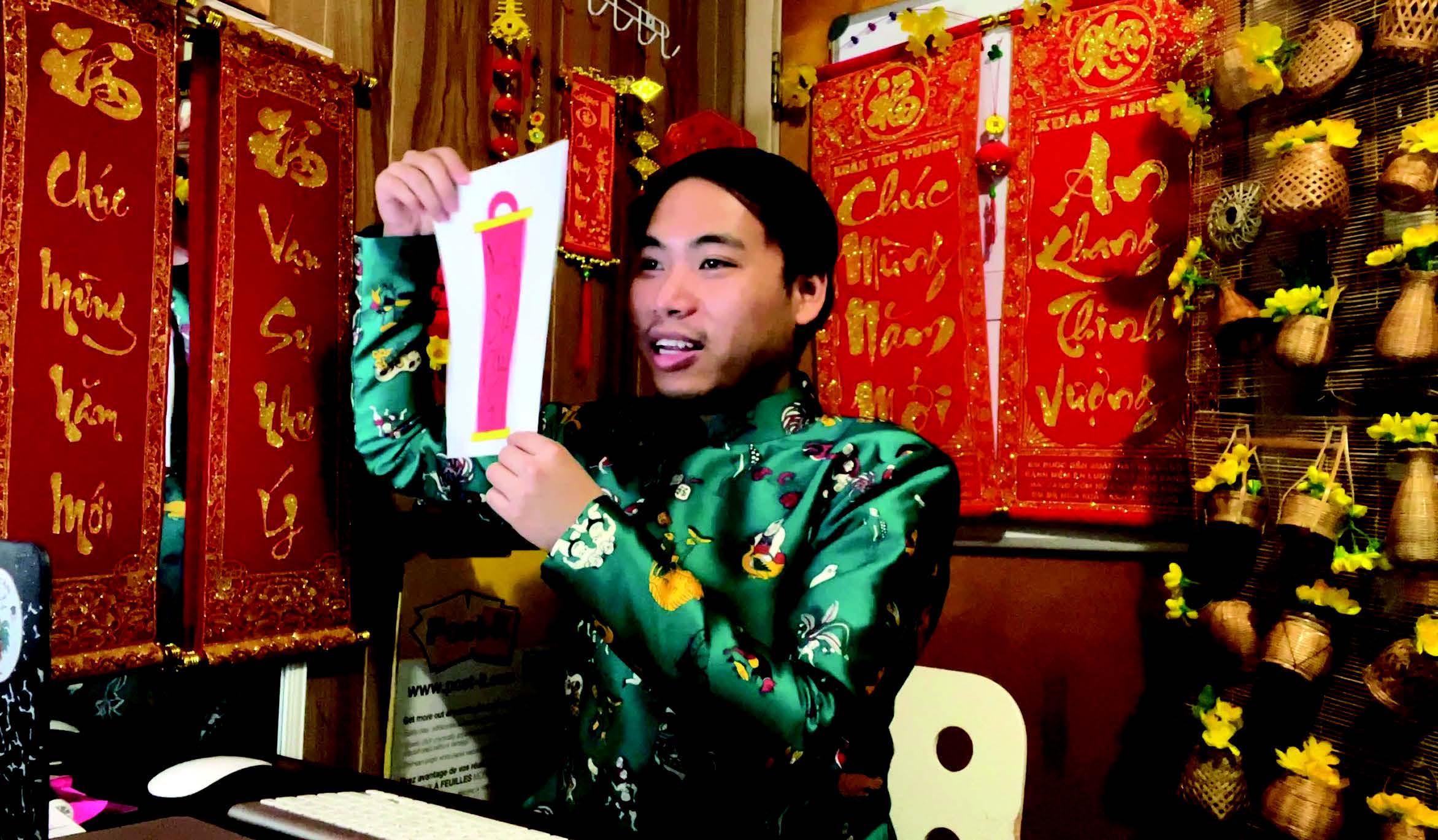 Working toward his master's in teaching from home, Daniel Dai teaches kindergartners in his Vietnamese-English class about the Asian New Year. (Photo courtesy Daniel Dai)
Staffed by program lead Justin Roach and lead instructor René Pyatt, the MAT-CBE program provides a broadly accessible pathway for students who are passionate about teaching and want to jump-start a career in elementary education.
"Research suggests that clinically-based models such as ours, with intensive supports and strong district relationships, lead to fewer teachers leaving the profession in the first five years and teachers feeling more effective and supported in their districts," Kibler said.
The program is a great fit for Plomer. She taught special education for 14 years in her native Argentina. When her husband's career took the family to Idaho and then to the Portland area, she saw a great need for bilingual Spanish-English teachers as she worked as a classroom assistant.
"I really loved special ed, but I saw this great need in my Hispanic community, and I fell in love with bilingualism," she said. "My supervisors at the school realized that I was very eager to have my own class and they told me I should get a degree (and a teaching certificate) here."
"I said, 'Oh, wow. English is my second language. I don't know if I could do that."
Then she found OSU'S MAT-CBE.
"This is big for me," she said. "While I am learning, I am teaching, and I have a clinical supervisor who is helping me improve."
Kibler sees Plomer as a great example of one of MAT-CBE's most important goals — to produce more multilingual and multicultural teachers for Oregon and the nation's increasingly diverse schools.
According to a report by the Council of Chief State School Officers (2018), about 50% of students but only 20% of teachers in America's schools are persons of color, she said. In the MAT- CBE program, over 50% of teacher candidates self-identify as persons of color, and over 40% teach in dual-language settings. The program graduates approximately 20 students per year and is growing.
Madeline Elmer found her way to MAT-CBE after she realized she wanted a re-do on her career choice. Growing up in Portland, she always wanted to be a teacher, but she second- guessed herself and went to Colorado State to earn a bachelor's in marketing.
"I didn't quite know if I had what it takes to be a teacher," she said. "Am I patient enough, bubbly enough, energetic enough to do that every single day as a career?"
Business degree in hand, she tried marketing as a career but her urge to teach remained strong. Soon she was shopping for a teacher-training program that wouldn't require her to physically return to college. Now MAT-CBE has her teaching and learning in her childhood bedroom in her parents' Portland home, where she presides over a Zoom-roomful of second-graders from Beaverton's Barnes Elementary School.
With a broad smile, she confirms that she was right about two things: Teaching is her calling, and it is extremely challenging to be an effective teacher.
"You are performing," she said. "You are up there in front of them, and you have to be engaging. Meanwhile you're scanning the room, trying to watch all of them at once. Is one of them staring off into space? Are you losing them? You have to find a way to pull them back without embarrassing that student in front of the rest of the class. And then, at night, you're up late, planning for the next day."
Daniel Dai is a math whiz with a bachelor's degree from Port- land State, but before he graduated, he volunteered to teach his native Vietnamese language and traditions to grade-school children on Sundays at his church, where parents were worried that their Vietnamese-American children were losing touch with the culture of their ancestors.
"Teaching them, I learned that I liked to teach, and I got a lot more confident," Dai said. "They inspired me." He knew he'd found his career path. His shortest route to a teaching certificate would have been to become a high school math teacher.
"But at church I had learned that I really liked teaching younger students," he said. "So I kept working on my math degree, and I found the MAT program at OSU."
Now, as he earns a master's through the MAT-CBE program, he remotely teaches kindergarten in Vietnamese and English at Rose City Park Elementary School, as part of Portland Public Schools' dual-language immersion program. His OSU instructors and mentors are always there with advice and resources, he said, and his love for teaching grows with his expertise.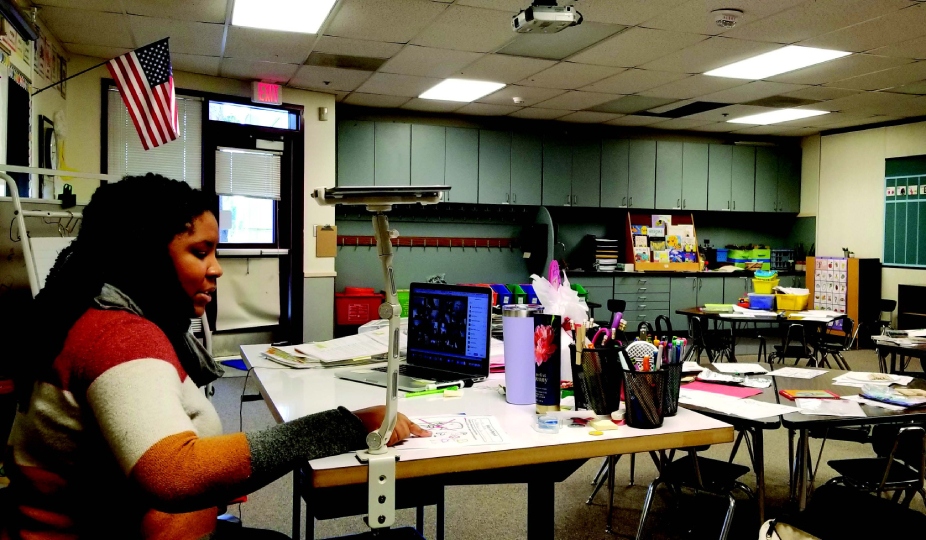 A 2020 graduate of OSU's MAT-CBE program, Kimberly Skinner teaches her kindergartners from the classroom they'll use once her school returns to in-person learning. (Photo by Autumn McConnell)
Kimberly Skinner, a June 2020 graduate of the MAT-CBE program, teaches kindergarten from her classroom at Sexton Mountain Elementary School in Beaverton. Child-sized desks and chairs are arrayed in circles in front of her, but the children are all on Zoom.
She grew up in Maryland and aspired to be a potter. Teaching ceramics at a community art center, she discovered that she loved teaching.
"I thought, 'I could do this for a living,' but at the same time, I knew teaching pottery part-time wasn't enough to make a living."
Thus began a search that would take her across the country to OSU's MAT program.
"I wanted to be able to work while I was learning, and OSU really one-upped that, because you're getting the coursework and you're also getting the hands-on teaching experience."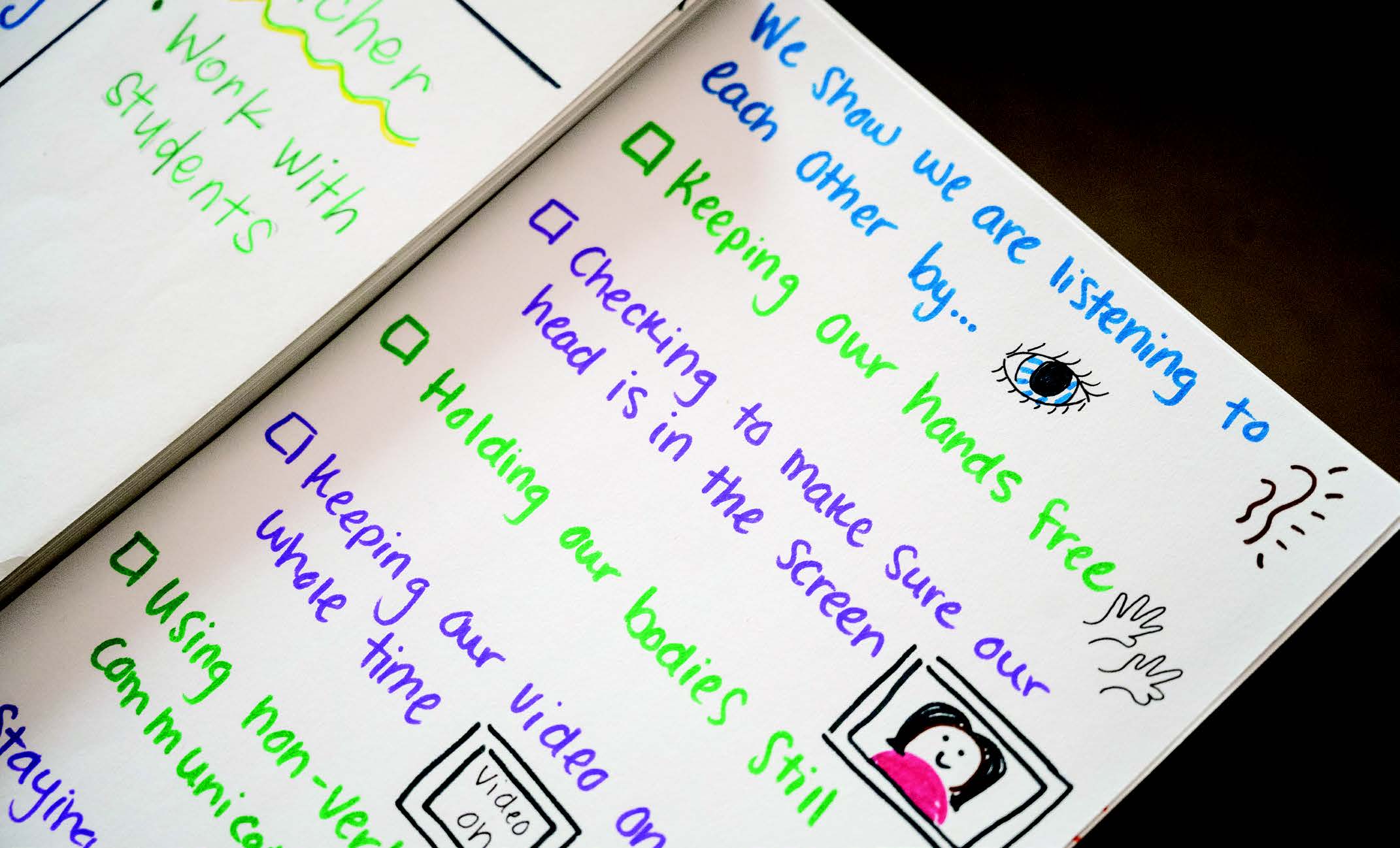 Above: Madeline Elmer uses large flash cards to remind her students about the keys to a productive day at Zoom school. (Photo by Karl Maasdam).
The MAT-CBE program began in 2016 as a partnership between OSU and the Beaverton School District and has since expanded to partner with Portland Public Schools' Dual Language Teacher Residency Program and the Hillsboro School District, among others. It continues to expand to additional districts in or near Portland and the Willamette Valley.
A recent infusion of state money, earned in competition with other programs around Oregon, will help expand the concept to smaller school districts and will also support a new, undergraduate Clinically Based Elementary Education program. Launching this fall, it will serve those without a bachelor's degree, including many teaching assistants, who want to earn one and become certified teachers.
Designing the specific partnerships can get complicated because school districts can vary widely in local processes and needs, Kibler said. But several key, research-based principles drive the program no matter where it operates.
OSU and its partner districts collaboratively recruit and interview candidates for the MAT-CBE program. District partners devote considerable resources to the program, including funded positions for management and coordination of the program within the district. This includes responsibilities such as arranging preservice teacher placements and collaboratively supporting the clinical teacher mentors.
For Plomer, Elmer, Dai and Skinner, it all adds up to a chance to fulfill their calling to teach as they help meet a national need for committed, highly skilled teachers.
"As soon as I saw it, I knew it was for me," Skinner said of the program. "It was exactly what I was looking for."